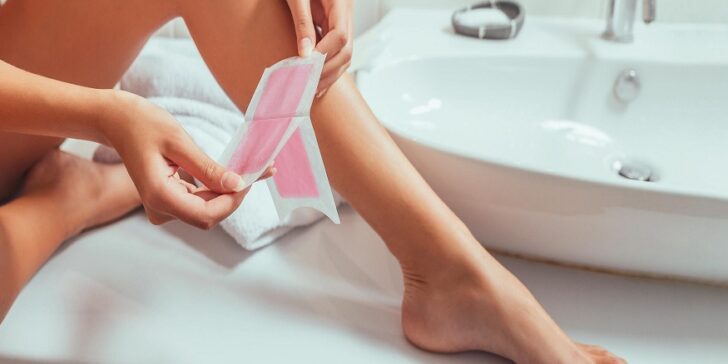 The festive season is here. Time to keep your skin velvety smooth and hair-free to rock your look in backless, off-shoulder, sleeveless, or mini dresses. But for that, you need not waste hours in a beauty salon. Grab a hair removal product for super fast, easy, safe at-home depilation. If you skip a razor, you can remove hair painlessly. Here are 3 ways for quick and pain-free full body hair removal.
Use Ready-to-use Cold Wax Strips
Want quick painless hair removal? Then bring on cold wax strips. Just apply a strip along the direction of hair growth. After a few minutes, pull it the opposite way, and you're done! Unlike hot wax, these strips don't burn your skin. Also, there's no question of cuts or nicks unlike with a razor. Full body hair removal wax strips can depilate the back, shoulders, arms, underarms, bikini line, legs, and what not.
You can also enjoy the following benefits:
Cut each strip in different lengths to completely depilate an area.
Hair (even 1.5mm long) is uprooted so that you don't get pricklystubble but silky smooth skin for up to 28 days.
New hair grows late, softer and finer.
The wax strip also exfoliates your skin.
The best wax strips moisturise sensitive skin with Vitamin E and almond oil, normal skin with Shea Butter, and dry skin with Aloe Vera.
You may also get the fragrance of lotus flowers or berries.
Opt for a Hair Removal Cream
You can also remove unwanted body hair painlessly using a depilatory cream. A good product works in just 3-6 minutes! The best full body depilation kit contains a hair removal cream and a gentle spatula. You can use the spatula to apply the cream against the direction of hair growth. After letting it rest a little, move the tool in the opposite direction. You will get the following benefits:
Hair is removed close to the roots so there's no bristly stubble as with shaving.
Hairfree skin lasts longer than post-shaving.
The best depilatory cream pampers dry skin with Shea Butter, normal skin with lotus milk, and sensitive skin with Aloe Vera and Vitamin E.
A good cream also leaves the fragrance of jasmine or lilies.
Choose a Sensitive Touch Electric Trimmer
Do you want the magic of depilatory blades but avoid skin injuries? Then go for a sensitive touch electric trimmer. Its blades never touch the skin and therefore, don't hurt it. A good trimmer comes with a combattachment for uniform trimming, a bikini head and a precision head. You can use the full body hair removal trimmer even on sensitive areas like the bikini line and face where a razor cannot reach.  When it comes to your face, you can use the trimmer on both your eyebrows and upper lips. Just glide the trimmer on the area to be depilated and your work is done!
Remember to do a patch test before using a product on your full body and get ready to expose your beautiful skin!