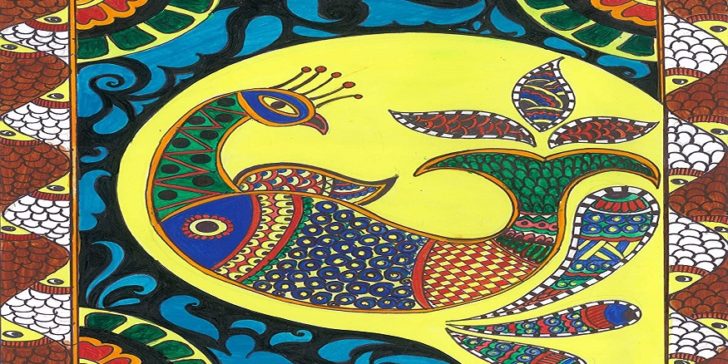 Every art form has a unique quality that exalts it to extraordinary fame and splendour. This is also the case with Indian art forms. Each vintage indian art form has its own set of motifs and stylistic features that set it apart from the rest. It's these little symbols and themes that accord meaning to every piece of art created in a particular genre of art.
Here are five Indian art forms and the motifs that have made them popular:
1. Madhubani Painting
Madhubani may be a 2500-years old art form, but its treatment of modern subjects keeps it relevant even today. Madhubani art originated during Raja Janak's reign as people decked up the city of Mithila to commemorate Lord Rama and Sita's wedding. Madhubani painting is, perhaps, the oldest form of graffiti, since it started as Bhitti Chitra, i.e., wall art. There are five styles of making Madhubani artworks: Bharni, Kachni, Tantric, Godhana and Kohbar.
The most unique facet of motifs used in Madhubani art painting is that they have a Feng Shui connection. Madhubani famous paintings use auspicious symbols and motifs that make this art form perfect for decorating your home. Every inch of the canvas is filled with beautiful geometric patterns and motifs like fish, lotus plant, sacred symbols, fish, parrots, birds, peacocks, tortoises are popular in Madhubani art. Fish represents wealth and prosperity while peacocks are the harbingers of fame and beauty, according to Feng Shui. Lotus brings home good luck and fortune while the tortoise symbolizes long life, peace and wisdom in Madhubani art.
2. Kalighat Painting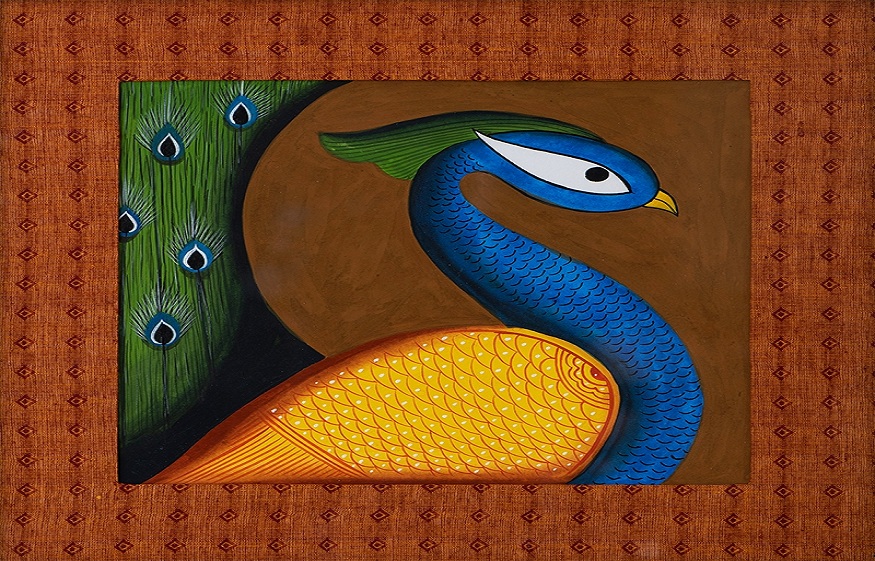 Kalighat art was popularly sold as souvenirs for British tourists and officers visiting India on official duty. It was born as a condensed form of Pattachitra paintings, but soon developed its own features. Kalighat art is named after the Kalighat area of Bengal and differed from Pattachitra by having lesser characters and more empty spaces. Hence, a Kalighat painting will always focus on one or two figurines, instead of narrating elaborate stories from mythology and folklore.
Painted on mill-made paper, a Kalighat painting was unique in its depiction of Indian gods and goddesses, popular folktales and religious epics. In terms of motifs, Kalighat art can be divided into two forms: Oriental and Occidental. Oriental Kalighat Paintings narrate scenes from Hindu texts and religious tales. These tales are depicted by painting hindu gods and goddesses like Goddess Durga, Radha-Krishna, Hanuman, Shiva-Parvati, etc. An Occidental Kalighat painting depicts relatively contemporary scenes like stories from the freedom struggle, the babu culture, a woman playing sitar, etc.
3. Pichwai Painting
Pichwai paintings were traditionally used to decorate the wall behind the deities in Rajasthan's Nathdwara temple. Hence, most Pichwai famous paintings are dedicated to Srinathji, an avatar of Lord Krishna as a 7-year-old infant. Pichwai artworks may tend to be slightly crowded but none of the elements are allowed to overshadow the main subject—Lord Krishna. Pichwai art usually has a bright colour palette consisting of red, yellow, black and green colours. Some of Pichwai most famous artworks have emerged by scaling down these ornate paintings into smaller nuggets of art like cushion covers, coasters, bedsheets, etc. These are always brimming with auspicious motifs and bright hues.
One of the most distinct features of Pichwai artworks is Chowbees Swaroop—Krishna's 24 divine avatars, usually painted along the borders of a Pichwai painting. Other common motifs in Pichwai art include lotuses, cows, trees, peacocks and gopis. Different forms of flora like trees and lotuses are meant to offer Lord Krishna some respite from the heat. Cows are an important motif since they represent Krishna's life as a gwala (cattle herder). MorkutiPichwai paintings show peacocks welcoming the rainy season by dancing—similar to scenes from the Raasleela.
4. Pattachitra Painting
Pattachitra art paintings were originally used in the Jagannath temple to replace the primary deities for a 15-day period—Anasara. Today, Pattachitra art has become an important part of transmitting folktales and the artistic tradition of India. The Raghurajpur village in Orissa is the epicentre of Pattachitra art in India, as this heritage village thrives on Pattachitra paintings and knick-knacks on sale. Chitrakars don't make rough sketches for Pattachitra art with pencils or charcoal, and use paint on the canvas directly.
In a Pattachitra painting, the smallest of spaces is filled with symbols and motifs. Birds, snakes, lotus, lilies and other water plants make frequent appearances on a canvas of Pattachitra art. The Jagannath temple and its presiding deities—Jagannath, Subhadra and Balabhadra, are the most important motifs in Pattachitra art. A Patta painting may also depict scenes from the Krishna Leela, a cosmic dance with gopis dancing around Lord Krishna in a circle while he stands in the centre with Radha. The PanchamukhiGanesha and 10 incarnations of Lord Vishnu are other common motifs used in Pattachitra art.
5. Classical Indian Art.
The beauty of Classical Indian Art lies in its innate ability to transport you to a bygone era and makes every scene come alive. Apart from being an integral part of our artistic legacy, these paintings also act as legitimate historical documents and literature. Classical Indian paintings grew to become a favourite at royal courts as it became a part of royal households, who even commissioned many of them. Today, Classical Indian Art is divided into four schools of art—Mughal, Rajastganim, Pahari and Deccani.
The Mughlai school of Classical Indian art is said to have originated during Humayun's reign, when he invited Persian artists, Mir Sayyid Ali and Khwaja Abd al-Samad, to India. Mughal paintings were heavily influenced by Persian art, as can be seen through the architecture and clothing in these paintings. The Rajasthani school of art took shape in the 17th-18th century royal courts of Rajputana. This gave rise to exquisite Rajasthani miniature paintings that used traditional motifs and themes like festivals, seasons, social occasions, courtly scenes and hunting scenes. Though the Deccani school of Classical Indian art was also shaped by Persian influences, they also borrowed stylistically from European art. One of its most distinct motifs is the composite animal—one large animal created with images of several small animals. Pahari paintings, as the name suggests, rely on natural motifs and sceneries.