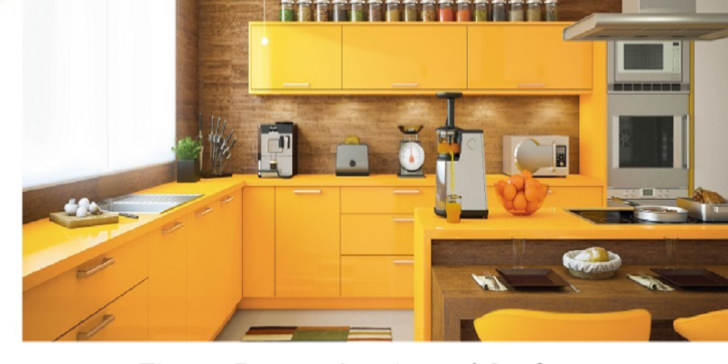 Interior decor would be incomplete without decorative laminates. They are the cornerstone of modern living. The use of laminates is ubiquitous. These decorative surface materials can be applied in your living room, bedroom, kitchen, and even bathroom. The beauty of laminates lies in the customization options they provide. They are manufactured by pressing kraft paper under the right heat and pressure conditions. They are then covered with a thin decorative layer. So essentially, the design options are endless. It all depends on the creativity of the artist. Due to the sheer number of possibilities in both the application and design of laminates, they have garnered immense popularity in this day and age.
When it comes to renovating homes or offices, decorative laminates offer a very convenient option and allow for greater experimentation. There are numerous textures available, like wooden and metallic, and you can choose from a wide array of colors as well as the material finish – matt, glossy or ultra-high gloss.
Laminates owe their popularity not just to the possibilities they provide, but also to durability. They are resistant to heat and moisture, both of which furthers their lifespan. Another great thing about them is that they are more affordable than other decorative alternatives while proving to be at par when it comes to quality and look.
Now, decorative laminates are fairly less demanding when it comes to maintenance but nonetheless, they are prone to wear and tear as time passes on. They are made to be resistant to scratches and stains, yet to make sure they last a long time, proper care on the homeowners' part is required.
Here are some useful tips that will help you care for the laminated surfaces in your home or office better:
Laminates are created under such a process that they are able to withstand high wear and tear. However, laminated surfaces can still be susceptible to scratches. To avoid scratches, care must be taken while cleaning the surfaces. Any usage of abrasive cleaning materials like bleaching agents or steel scrubbers can cause damage.
Like any surface in your home, laminated surfaces may also gather dust, especially furniture. Make sure that you dust your furniture regularly with a soft, lint-free or microfiber cloth.
For stains and spots, use organic solvents and non-abrasive liquid to clean the surface. Wet wiping should be avoided as it often leaves marks on the laminate sheets. Always dry the surface after cleaning to ensure that moisture doesn't cause warping.
Never place any hot object directly on a laminate kitchen countertop. This can cause cracking on the surface. It may also leave scorch marks on the surface. Always use a trivet or an insulated hot pad to prevent any damage to the laminate.
Laminates are a wonderful choice for interior decor and with proper care, they should last for years. CenturyLaminates has the most exotic and vibrant collection of laminates in India, that will truly augment the aesthetics of your interiors.