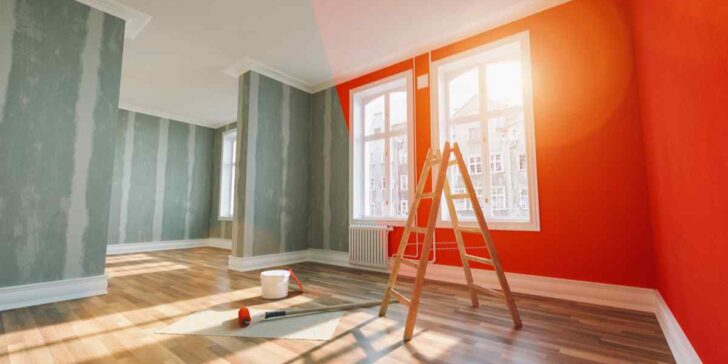 Painting your home is an excellent way to spruce it up and give it a new life. Are you delaying your home painting project because it costs a bomb? Hiring a painting service will undoubtedly require you to shell out a significant amount of money, especially if you don't want to compromise on the painting work.
So, how can you paint your home without causing a dent in your pocket? Firstly, go the DIY route and paint your home yourself. Gather your artsy friends who are up for a paint party and go crazy. It might take longer to paint your space without professional help, but it will drastically reduce your painting cost.
Are you interested to find out useful tips on how you can paint your space on a budget? Lucky for you, we have brought to you 7 home painting tips that will help you save money while painting your home in 2022.
1. Reuse colours 
You can save money if you buy a paint colour in bulk. So, instead of using several hues for different rooms, instead, pick 2-3 paint colours and use them throughout your home. You can use these hues in different proportions throughout the house so that no two corners of your space look the same. For example, if you are using a beautiful lilac colour for your bedroom, you can use it to paint an accent wall in your dining room and for the walls of your powder room.
2.Touch up 
If you feel that a room in your house doesn't look half bad, then you can opt for a touch up instead of repainting the entire room. This will save you paint, energy and time. So, before you start your painting project, carefully observe each room of your home and decide how much painting work each room requires.
3.Always buy samples
Buying paint samples will save you the trouble of wasting gallons of paint just because they end up looking different on the walls than how you envisioned them to look. So, buy as many swatches as you want and test them throughout the day to understand how they will look at different times of the day. You can also hold them against your furniture pieces to ensure that they don't clash with your furniture.
4.Use a paint calculator 
Today, you can use a virtual paint calculator to get a fair idea of how much paint you need to buy to do your home. You must never buy extra paint because you can't store them for long. Measure your rooms properly and decide on how many coats of paint you want to apply. After this, calculate on the paint calculator how much paint you need to buy.
5.Buy painting supplies wisely 
Don't get carried away at the paint store and buy every painting tool that piques your interest. You should ask the paint shop owner about which tools you will need for your painting project keeping in mind the type of paint you have decided to use. Invest in good quality paint brushes and rollers. You can clean them after your painting work is done and reuse them the next time you decide to paint your space.
6.Don't buy drop cloths 
When you are on a tight budget, every penny counts. A simple way to save money while painting your home is to not spend on drop cloths. You can make use ofold t-shirts, towels, blankets and rags around the house to protect your furniture and your floor from accidental paint splashes.
7.Look for discounts 
Check the social media accounts of your favourite paint brands to know when they have their paint sales. You can also consider asking your paint store for discounts and painting your home when the paint shops in your neighbourhood go on sale.
Bring down your painting cost wisely. Rememberthat if you buy cheap quality paints or painting supplies to save some bucks, then they won't last you for many years or won't give you the professional finish you desire.
Visit the Asian Paints website to grab the best paints for your new home. If you are sceptical of painting your home on your own, then consider opting for Asian Paints Safe Painting Service. With Asian Paints, you can rest assured that you can create your dream home within your budget.