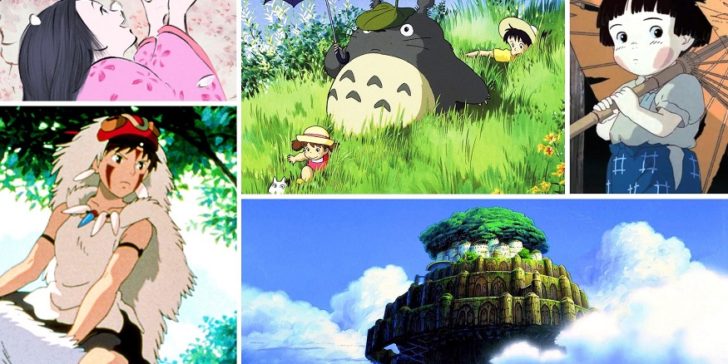 Studio Ghibli's name as an animation studio isn't only restricted to Japan. With classics like Spirited Away, My Neighbor Totoro and Howl's Moving Castle to its name, the studio is renowned worldwide. Surely, some of you must have watched these classics growing up on your local cable TV sets. But now with the era of digital media and streaming becoming more and more common, you can find several of these Studio Ghibli movies available across Netflix and other streaming sites. If you're lucky enough, you might as well stumble upon these titles on cable TV. If streaming is not your go-to thing, you can consider taking a look at Wow channel lineup and something might spark your interest.
Now on to the real deal – the best Studio Ghibli movies to watch! We have articulated a list for you so you don't have to go through the hassle. Here it is!
Spirited Away (2001)
Winner of the 75th Academy Awards for the Best Animated Feature, Spirited Away is one of Hayao Miyazaki's best works. What started as a regular family drive ends up costing Chihiro a lot. Her parents turn into food-gorging pigs and Chihiro cannot do anything to help. Soon they are transferred to the world of spirits and Chihiro loses track of her parents. Unknown of her surroundings, Chihiro has to face surreal monsters, spirits and gods to return to her world.
Princess Mononoke (1997)
Hayao Miyazaki's signature style is to fuse magical elements with nuances of the real world. That's exactly what Princess Mononoke portrays. The world of gods and spiritual beings is disturbed by industrialization. The gods are displeased yet there's no helping it. The protagonist of the movie is Ashitaka, a young man lost in a magical forest who slowly learns about the damage caused by his village people to the forest. In a fit of conflict, he must decide who to side with.
My Neighbor Totoro (1988)
My Neighbor Totoro is a Studio Ghibli classic through and through. The movie's story is centered on two sisters, Satsuki and Mei, who temporarily move in with their grandma while their mother undergoes treatment at a nearby hospital. Everything seems normal until they wander about the forest and meet paths with their friendly forest neighbor, a spirit called Totoro.
Kiki's Delivery Service (1989)
Based on EikoKadono's novel, Kiki's Delivery Service is both a slice of life and coming of age movie. The story revolves around Kiki, a 13-year old witch, who moves to a nearby city with hopes to earn a living.
Read more: Interesting features in Hong Kong
Hayao Miyazaki is renowned for his portrayal of strong independent young girls and Kiki's Delivery Service reflects the same. Kiki's undergoes many failures, loses her magical powers and is overrun by disappointment yet she doesn't give up on finding her true path as aliberated, young witch.
Howl's Moving Castle (2004)
Sophie lives a conflict-free life. She does not have many friends but no foes either. One day she bumps into Howl, a wizard deeply loathed by the Witch of the Waste. Upon finding her encounter with Howl, the witch curses Sophie to turn into an old woman until the curse is somehow broken.
Read more: How to Find out the Best Children Entertainers near Me
A confused Sophie isn't left disheartened. She heads out in search of Howl, hoping he could be the wizard who'd lift her curse.
Other Notable Studio Ghibli Movies:
Here are a few other Studio Ghibli movies that are worth a watch:
Nausicaa of the Valley of the Wind
Castle in the Sky
Whisper of the Heart
The Tale of Princess Kaguya
When Marnie Was There
PomPoko
Arrietty
The Wind Rises
Porco Rosso
Ocean Waves
Ponyo
The Cat Returns
From Up on Poppy Hill
All in all
Studio Ghibli is the brain-child of Hayao Miyazaki and we are yet to come across a title that disappoints us even slightly. Rumor has it that the director has no intentions of retiring anytime soon and is working on a new title! We cannot wait to know what he has in store for us now!