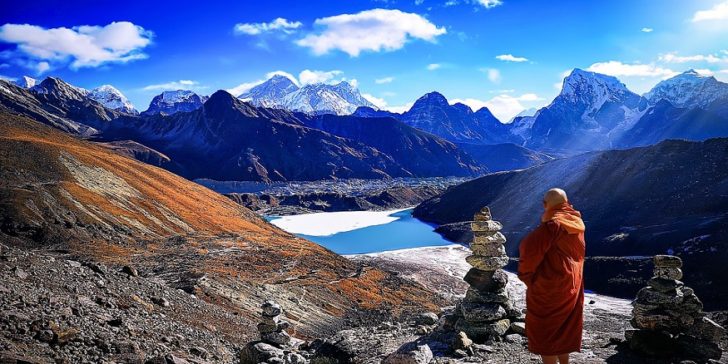 It would not be an exaggeration to say that Nepal is a trekkers' paradise. With so many trekking journeys to try, there is something for all kinds of trekkers here. If you're someone who loves trekking, you should try to explore these 5 amazing trekking destinations in Nepal.
Everest Base Camp Trek
Everest Base Camp Trek is a popular journey. The trek takes you to the base camp of the world's highest mountain. Apart from that, it allows you to explore so many other spectacles such as Kala Patthar, Lukla, the home of the world's most dangerous airport, Namche Bazaar, Tengboche, the home of DawaCholingGompa, and so on. You could extend Everest Base Camp Trek to cover attractions such as Three High Passes and Gokyo Lakes.
 Langtang Valley Trek
This is a 10-day Langtang Valley Trek starting at Syabrubesi at a height of just 1467 m/ 4812ft, but as the trek continues, we reach a soaring height of 5000 m, which is truly amazing. This trek is the perfect getaway for those trekkers who seek solitude and peace. This area is close to the Tibetan border lets you experience the wild Tibetan culture and their lifestyle.
 KyanjinGompa is a very important checkpoint, where you can see the marvelous art and culture of Buddhist Monasteries and various other relics. The area offers you panoramic views of DorjeLakpa, Shisha Pangma, along with LangtangLirung and KyanginRi. This trek also gives you the opportunity to visit Langtang National Park, which is rich and diverse when it comes to animal and bird species such as Musk Deer, Pika, Danphe, Nepal's National Bird, and so on.
About Langtang Valley
Langtang Valley, also known as the Valley of Glaciers, is the closest Himalayan Trekking Region from Kathmandu valley, with just a few hours of drive. The whole valley offers a spectacular view of LangtangLirung (7246 m) and allows you to experience dense forests, swift mountain streams, high grasslands, and snow-capped peaks.
 Despite being so close to Kathmandu, Langtang Valley has a very high Tibetan influence, mainly because it lies in the south of the Tibetan Border. Langtang Valley Trek is considered as a remote yet spectacular trek, taking you through the high Lake of Gosainkunda, forests of Rhododendron and bamboo, majestic waterfalls, and the snow-capped mountains.
Annapurna Circuit Trek
Annapurna Circuit Trek is the longest Trek in the Annapurna region, and probably the richest. On the trek, you get to explore religious attractions such as Muktinath, beautiful villages such as Jomsom and Manang, and natural spectacles such and Thorung La and Tatopani springs.
Kanchenjunga Base Camp Trek
Kanchenjunga Base Camp Trek is one of the toughest treks in the country, mainly due to its long duration and the altitude covered. There are two Kanchenjunga Base Camp Treks, Kanchenjunga North Base Camp Trek, and Kanchenjunga South Base Camp Trek. The journeys lead the trekkers to the respective base camps of the world's third-highest mountain.
Manaslu Circuit Trek
Manaslu Circuit Trek is the best way to explore the Manaslu region in one go. It is a trek that is gifted both naturally and religiously. By adding a few days to the trek, you will be able to explore Manaslu Base Camp and Tsum Valley. The latter is known for its religious significance.
 When it comes to trekking in Nepal, these trekking journeys are only the tip of an iceberg. There are so many routes to try here that you'd always feel like returning. Make sure to explore these 5 amazing trekking destinations in Nepal with Great Nepal treks and Expeditions, you will never have enough of them; that's certain.