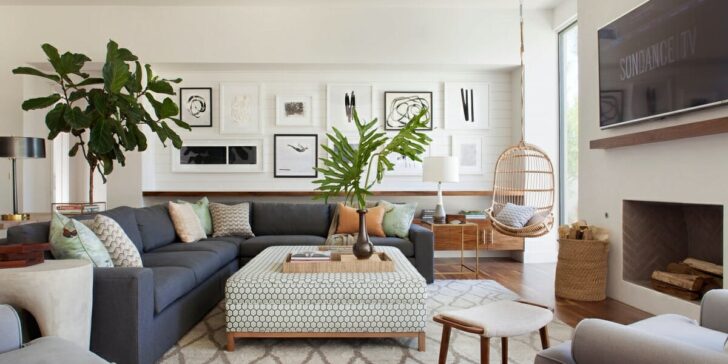 Creating a Safe Haven: Kid-Friendly Solutions for Your Living Room
A living room is the heart of a home, so it's important to make sure it can accommodate the entire family. While traditional living room designs often don't take into account that children are present, there are plenty of ways to create a kid-friendly space that adults and children alike will love.
Yes, your living room design can be both beautiful and kid-friendly. When designing a family room, try using materials that are durable and easy to clean. Leather or microfiber sofas are great options for their stain-resistant properties. To make the space even more kid-friendly, opt for low-pile rugs with darker colors. They hide dirt better than light colors, making them easier to clean.
Finally, when it comes to keeping things clean and tidy, the key is regular maintenance. Cleaning spills before they become stains and wiping down surfaces daily can help keep your living room looking like new for years to come. Utilizing storage solutions, such as shelves or drawers, can also help minimize clutter and make cleaning up a breeze. You should also try to use non-toxic cleaners for a safer family room environment.
Here are some tips you should remember when creating a family-friendly living room with kid-friendly solutions.
1. Smart Storage is a Must For Kid-Friendly Living Rooms
Smart storage solutions are incredibly important when planning the interior design of a family-friendly living room. Your children need to be able to access their toys and books easily, so strategically placed shelves, cabinets, or drawers are essential. To keep things from getting cluttered and your furniture looking new for as long as possible, opt for multipurpose storage solutions that can hold all the items you need while hiding them away when not in use.
2. Invest in Performance Fabrics for a Kid-Friendly Living Room
You should consider investing in performance fabrics, as these are often more durable and easier to clean. Materials like microfiber or leather can be great choices. Avoid fabrics that are difficult to clean, such as silk or light-colored materials, as these will always show dirt and dust.
3. Rounded Edges Rule Kid-Friendly Living Room Design Ideas
Always choose furniture with rounded edges when designing a family-friendly room. This will help to prevent serious injuries if any falls occur. You should also look for ottomans or poufs with cushioned tops, which can be great for playing on or sitting on while watching TV. If you're looking for a more traditional look, opt for furniture with sturdy legs and no sharp edges.
4. Rugs Soften Kid-Friendly Living Rooms
Area rugs are ideal for softening hard surfaces and adding some additional color to the interior design of the room, just remember to pick one with a low-pile, darker color fabric that is easy to clean. You can use a rug to define a seating area or simply provide some extra warmth underfoot when the little ones want to play on the floor.
5. Open Layouts for Kid-Friendly Living Rooms
Open layouts are ideal for kid-friendly living rooms. This will make it easier to keep an eye on your children while they play, and also provide more space for them to move around. Open floor plans can also create a sense of flow throughout the room and help make it feel larger than it actually is.
Creating a family-friendly living room isn't as difficult as it may seem. With the right materials, storage solutions, and layout ideas, you can create a space that both adults and children will love. A well-designed living room with kid-friendly solutions can make all the difference in creating a welcoming home for your entire family.
Start by assessing your needs and consider how your family will use the space. Then, focus on creating a room with materials and storage solutions that are both functional and stylish. With a few key tips, you'll be able to create an inviting living room design for adults and children alike.
Finally, don't forget to add some personal touches to make it feel truly like home!