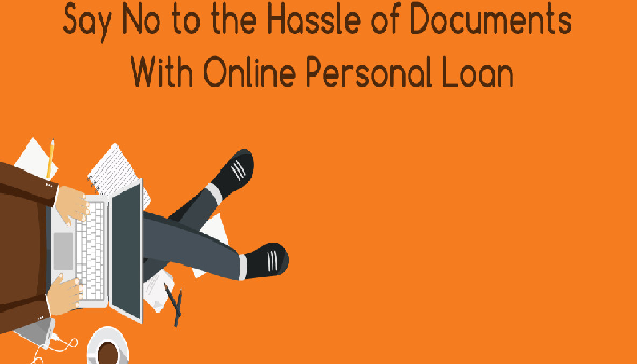 "Is it possible to get a Personal Loan without any document?" To be able to answer this question, one needs to understand what is a Personal Loan and on what criteria do banks issue them to an individual. Hence, let's first understand the nuances of getting a Personal loan.
Personal Loan is basically an unsecured loan that the banks lend to borrowers who need instant money for some personal requirement. These are unsecured loans and given without any collateral or security and mostly they are taken for a shorter term like 1 to 5 years at the maximum.In a Personal Loan, the bank is not concerned about the purpose of your loan.
You can use this money for planning a vacation with your family, for your sister's marriage, for funding your higher education or even for medical expenditure. What the banks look for while approving a Personal Loan is whether the borrower has the repaying capacity to pay back the loan within the stipulated time frame or not. The bank hence asks for certain documents as an evidence to prove your credit history. They also check your latest credit rating or CIBIL score and then declare whether the loan has to be issued or not.
There are certain banks and financial institutions that issue Personal Loans to people without any documentation basis on their relationship, their profile and their credit history. Let's have a look at all the things you could do to get a Personal Loan approved without any documentation:
Being loyal to a bank and having a good credit transaction record with them can win you many instant pre-approved offers on Personal Loans. Banks prefer building a relationship with their existing customers and give them these instant loan benefits. For example, HDFC Personal Loan comes up with many such instant and hassle-free loans you are an existing HDFC account holder.
HDFC Bank offers loans upto Rs. 40 Lakhs to account holders on minimal documentation or zero documentation as well if they find them creditworthy. It is easier for the bank to gauge your creditworthiness and repayment capability if you have an account with them; hence the bank would not be reluctant in giving you a Personal Loan.The advantage of such a relationship is that the banks know your source of income, monthly and annual income, they also know your monthly expense and they can easily calculate your repaying capacity, hence they instantly offer loans to existing customers.
Read more: Is it Possible to Get Personal Loan without Documents?
Moreover, if you have been a loyal customer, having all your financial transactions intact without any failures in payments, then the bank does consider you as a prospective buyer of a Personal Loan as well
If you have multiple assets with the bank like Fixed Deposits or Mutual Funds, then make sure you maintain a good record for them. Make sure you make all your payments on time and don't let any chequeget bounced as that creates a black spot on your credit rating.
If you have equated monthly instalments (EMIs) going out from that bank account, make sure your account is adequately funded so that no payments are dishonored. A dishonored payment shows a person's incapability to handle finances and hence banks raise their brows in such situations and start suspecting your credibility.
Make sure to pay all dues and statements on time; like your Credit Card bills, electricity and water bills as that surely puts you on a higher rating scale and you can avail instant Personal Loan through that. This plays a vital role not only in procuring the Personal Loan but for also any future financial transactions as these records go back to CIBIL and become a part of their system.
You need to focus on maintaining a high credit score not only with the specific bank related transactions but also with your overall financial transactions. Even a minor late payment or failure to payment can lead to a decreased credit score in CIBIL. Hence, you have to consciously focus on clearing all your dues on a regular basis. If you have many bills to be paid on a monthly basis like credit card bills and utility bills as well; then you can map all of them onto your Debit Card or Net banking such that they could be paid automatically every month through an auto- debit feature. An auto-debit feature is very safe and helps us manage our finances more efficiently.
Above-mentioned are some of the ways through which you can Get a Personal Loan from a bank or other financial institution without any document submission. The crux of the entire matter is to ensure that you maintain a healthy and proficient financial record so that you have multiple avenues open when you need any financial help to be able to fulfill your desires.