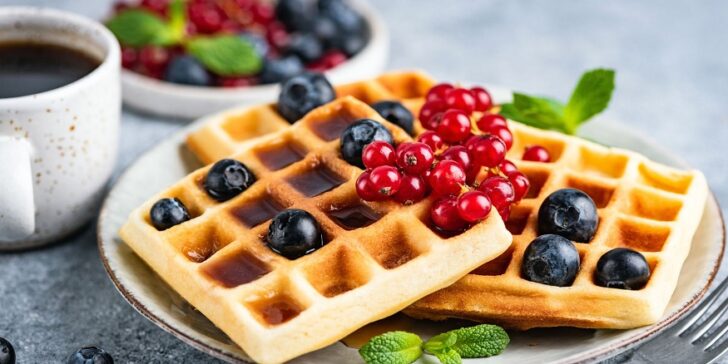 Waffles are a favourite delicacy all over the world; whether you're in a little cafe in Paris or a local street vendor in Vietnam, you can find these mouthwatering treats everywhere.
However, the waffles change based on the region.
Every country has its own take on the waffle. But who knew that there were so many types of waffles?
In this blog, we will talk about the 10 best waffles, that will transport you around the world:
Brussel Waffles : You may not be familiar with these waffles, but they are large, rectangular, crispy on the outside, and fluffy on the inside. These also contain deep pockets, which give it its delicious texture and taste. These are generally served hot, topped with powdered sugar or whipped cream and fruit.
Belgium Waffles : Belgium waffles, which are technically American waffles because they were invented in America, are very similar to Brussels waffles, but the ingredients used differ slightly. While Brussels waffles are made with yeast, Belgian waffles are made with baking powder. Baking powder helps with the consistency the waffles are known for. It is a breakfast special in many American households.
Toaster Waffles : We've all had them at least once in our lives; these American inventions, also referred to as frozen waffles, are those that can be eaten straight from the freezer or toasted. These were invented by the Dorsa brothers in 1953, were originally termed frozen waffles instead of toaster waffles, and are still a household favorite.
American waffles : like Belgian waffles, are made with baking powder to give them a nice texture. American waffles are thinner but denser than yeast-made waffles, and the pockets are much smaller compared to other waffles, which makes them perfect for holding syrup or any gravy.
These come in a variety of shapes and sizes, are frequently served for lunch or dinner, and are sometimes served with poultry such as chicken.
Hong Kong : Egg Waffles – Hong Kong has its own version of the waffle, sometimes referred to as "bubble waffles." In the 1950s, street vendors in Hong Kong invented their own version of this mouthwatering delicacy. These waffles have egg shaped bubbles protruding outward and are easy to eat and very fluffy.
Liege Waffles : According to legend, the Liege waffle was invented by the prince bishop of Liege in Wallonia, Belgium, according to legend.What makes Liege Waffles special is that they are made with a thick brioche batter, which also includes pearl sugar. These delicacies are rich and crispy and made with a caramelised sugar coating, which gives them their distinct taste.
Pizelles : Unlike other waffles, pizelles are an Italian treat made with flour, eggs, butter, sugar, vegetable oil, and flavouring in some cases. These cookie-shaped treats can be hard and crispy or soft and are moulded into various shapes.
Korean Waffles : Have you ever had a waffle that has the same consistency as that of a croissant? Well, the Korean waffles are made like that but served with traditional toppings like powdered sugar, maple syrup, or ice cream.
Hot Dog Waffles : If you love hot dogs and waffles, you will love this Canadian waffle, which combines the best of both worlds. In simple terms, it is a hot dog, covered in waffles. It's a sweet-salty amalgamation that just fills your palate with the best of flavors.
Stroopwafel : Who does not love flat, crispy waffles drenched in caramel syrup? This Hollandish treat is a flavorful choice for those who have a sweet tooth.
There you have it; a list of the best waffles that will transpose you around the world. You can also make them at home, using basic batter material, which you can find at www.yogurshop.com, and build up or customize your waffles according to your taste and preference.
Let us know which waffles you have tried and loved; maybe share a few recipes with our waffle community!