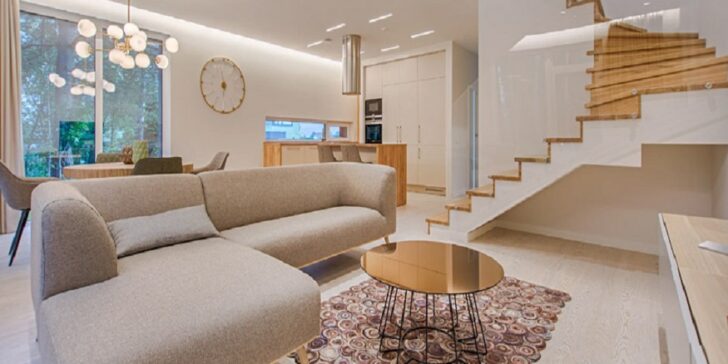 With the winters arriving, it is time to revamp your home. During the cold season, people tend to spend more time indoors. Hence, you must ensure that the interiors stay warmer. If you do not have home decor ideas for the winters, here are a few tips that will help you:
01 of 07 Choose textiles that are comfortable
To make the interiors warmer and comfortable, you can consider adding various accessories like cashmere, flannel sheets, or wool throws. Also, keeping these accessories folded on the backrest of your sofa, rolled in a large basket, or laying them on a bed can make the interiors appear warmer and more comfortable. Knitted accessories are becoming a trend in modern winter interior decorations. You can opt for huge chunky cable knits or knitted poufs instead of weaves. There are various other forms of textiles as well. You can add faux fur stools for additional seating space in the room.
02 or 07 Choose wood elements for the interiors
Wood elements are popular in both traditional and contemporary spaces. Besides having a warm effect on the interior decor, they are great insulators. Hence, they do not allow heat to escape the indoors and help to keep the indoors warmer. For maximum impact, install wood flooring. You can use wood planks for other purposes as well like wood ceilings and wainscoting. If you do not want to invest so much and need simpler solutions, consider replacing your old decor pieces with wooden decor pieces. You can consider replacing your old furniture pieces with wooden furniture pieces as well. With so many wooden elements in the room, your home decor idea will appear very luxurious and elegant. The rustic vibe will make the interior design of your home more inviting and welcoming.
03 of 07 Create a statement fireplace
During the winters, the fireplace is one of the best places to gather. This home decor idea will help you stay warm and comfortable. You can spend some quality time with your family sitting near the fireplace in the evenings. However, keeping you warm is not the only purpose of installing a fireplace. A statement fireplace becomes the focal point of any room and naturally attracts the eyes. Choose a fireplace that features interesting patterns and styles and make sure it complements the rest of the decor. It will help to enhance the appeal of the room. To avoid fire-related accidents, you can opt for a beautiful electric fireplace that will provide you with all the benefits of a regular fireplace minus the fumes and risks.
04 of 07 Brighten up the space with candles
Bring down your utility bills by keeping the lighting fixtures off and lighting up the room with candles. Contrary to lighting fixtures, candles emit a soft and calming glow that makes the space appear warmer and more elegant. They create a very festive vibe in the room. However, do not use candles without candle holders. You will find candle holders in various colours, designs, shapes, and sizes that will help to add more visual interest to the interiors of your home. If you are looking for trendy options for your contemporary interiors, choose candlesticks instead.
05 of 07 Choose mirrored or metallic surfaces
To further brighten up the interior design of your home, you can consider opting for decor items with mirrored and metallic surfaces. The reflective surface will help to illuminate the room and add more visual interest to the space. Be selective while choosing the decor items. Make sure that they complement the other elements used in the room.
06 of 07 Shades of grey
Shades of grey have become a trend in modern homes for the winters. There are various options you can choose from such as tones of charcoal, slate, stone, mist, etc.
07 of 07 Tones of blue
To give your interiors a warmer colour scheme, consider choosing dark shades of blue for your home interiors. Besides grey, blue is one of the trendiest colours used during the winters. There are various options available like indigo, royal blue, midnight blue, ink, etc.