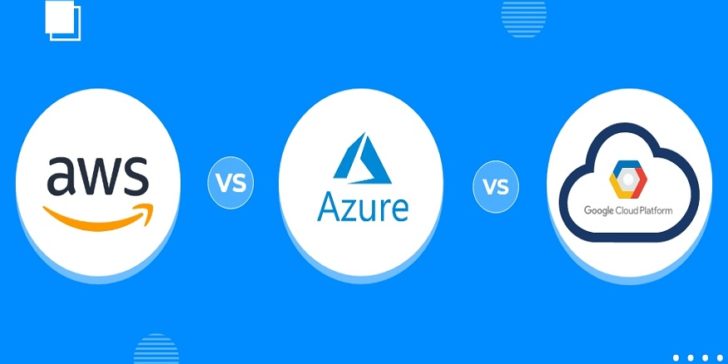 Cloud computing has changed a lot from its origins. It's no longer a matter about whether or not to go for cloud computing; the matter now is for which cloud technology to go with. Despite the global flooding in cloud infrastructure by many cloud vendors, Azure, AWS,and Google Cloud Platform firmly stand out as the top three suppliers in cloud services.And how is it that you know which one to choose? How are you closing the big debate on AWS vs Azure vs Google Cloud? Alright, this blog is how you're going to find answers to those questions. There are many AWS, Azure, and Google cloud certification are available to understand their features well.
Establishment
Amazon Web Services
A subsidiary of amazon.com, Amazon Web Services provides a pay-subscription-based on-demand cloud computing platform for governments, companies, and individuals.Amazon Web Services is the cloud market's most experienced and oldest player. It has built a bigger customer base as one of the largest cloud services, as well as stronger loyalty and stability metrics.
AWS was launched globally in 2006, providing offerings like Simple Storage System (Amazon S3), Elastic Compute Cloud (EC2),etc. In 2009, the Elastic Block Store (EBS) became available and provided services such as Content Delivery Network (CDN), Amazon CloudFront,and alsothe offerings of joined the AWS Cloud Computing Service.
Microsoft Azure
In 2010 Microsoft Azure, officially named Azure, was introduced with the goal of providing companies with a professional Cloud Computing platform. In 2014, Azure was renamed 'Microsoft Azure' although the label 'Azure' is still frequently used. Microsoft Azure has demonstrated significant progression among its competitors since its inception.
Google Cloud Platform
Google Cloud Platform ( GCP), that Google provides is a set of cloud computing software operating on the same framework that Google uses centrally for its end-user services such as YouTube, Google Search Engine, and more. Google Cloud Platform started its experience in 2011 and has maintained to build a good existence in the cloud computing market in less than a decade. Google Cloud's early motive was to improve Google's own products, like YouTube and Google Search Engine. But now, they've also launched their corporate capabilities that help anyone to access the Google Cloud Network that uses the same technology as YouTube or Google Search.
Availability Zones
It has already been accepted that AWS had been the first in the cloud infrastructure that confirms they have some time to set up and expand their network. So, AWS host several places around the world. Azure and GCP both operate at locations throughout the world, but the distinction is in the number of their different functional areas.
AWS has 66 available locations with a further 12 on the way
With 3 more on their way, Google Cloud Infrastructure has been made accessible in 20 regions around the globe.
Azure has 54 regions around the world and is distributed globally in 140 countries.
Going on with this Cloud blog for Azure vs AWS vs Google, let's check at each of these cloud providers' market shares and rate of growth.
Market Shares and Growth Rate
As far as the cloud market is concerned, AWS seems to be on top for as long as anybody can think.
Microsoft Azure ranks second, having owned over 16 percent of the global market share.
With about 30 percent of public cloud share in its label, AWS is leading.
Google has up to 10 percent of the worldwide market share in third place
While both Microsoft Azure and GCP lag behind AWS, they have demonstrated impressive growth rates when it comes to market share. GCP has reported a growth rate of 83 percent as of 2019, while Microsoft Azure is second to a rate of growth of 75 percent and AWS, third with a rate of growth of 41 percent.
Who Uses Them?
Since AWS is the biggest competitor in the cloud market, it has a larger number of customers and corporate participation. Hence, AWS has more well-known and high-profile clients such as Airbnb, Netflix, BMW, Unilever, MI, Samsung, Zynga, etc.
Over time, too, Azure is growing its share of high-profile customers. Azure has as its clients about 80 percentof Fortune 500 companies as of today. Some of the leading customers are Polycom, Johnson Controls,HP, Apple,Honeywell, Fujifilm, etc.
On the other hand, Google uses the same technology as Google Search and YouTube and several high-end businesses have put their trust in Google Cloud as a result. Google Cloud's main clients include PayPal, HSBC,Bloomberg, 20th Century Fox,Dominos, and more.
Pricing
AWS has recently begun to provide pay-per-minute billing. Azure also gives pay-per-minute pricing, while Google Cloud provides pay-per-second invoicing systems that allow customers to save even more than using AWS or Azure. Google also provides different discounts to help users save up to 50 percent as compared to AWS in some cases. According to Gartner, 'Google provides unparalleled incentives and extraordinarily customizable arrangements to compete and attract customer ventures.'
Key Takeaways!
Finally, let's finish up this Azure vs AWS vs Google Cloud article and have a look at the three technology providers' most important pros and cons. And for all of the reasons discussed above, which cloud service will be declared the winner?
Establishment: The winner here is AWS, with a 5-year head start.
Availability zones: The winner here is AWS with a greater number of locations and accessibility zones.
Market shares: The champion here is AWS with about one-third of market shares under its name.
Growth rate: The winner is GCP, having a growth rate of nearly 100 percent.
Who uses them: Using all three cloud systems for different high-end clients, it's a tie!
Services:
So far as the number of facilities is concerned the winner is AWS.
For the integration of on-premise and open-source frameworks, such as MS tools, the winner is Azure, which are found commonly in nearly all organizations.
Pricing Models: The winner here is Google Cloud, with more customer-friendly pricing models and discount models.
But, considering all, it would be best to assume that it is not about selecting the best cloud providers, but instead about picking the ideal cloud provider according to your requirements.